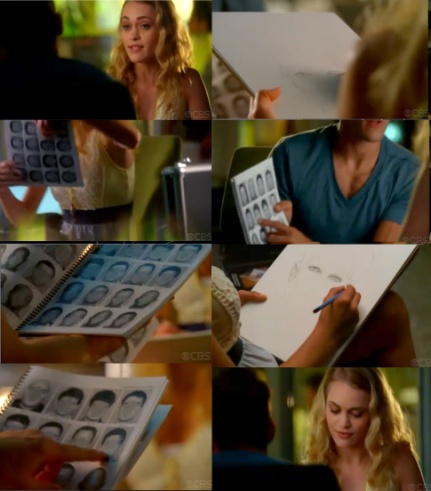 CSI:Miami See No Evil Season 9: Episode 3
"A young girl is kidnapped and the CSIs' only witness is a blind man who heard the abduction, leading Horatio to an old nemesis."
On July 30, 2010, Steinberg received a phone call from one of the producers of "CSI:Miami." Who explained that based on a recent trip by the show's writers to Steinberg's office they were writing an episode featuring a forensic artist.
Steinberg was asked to provide technical advice, samples of police flyer with composite drawings and information about the drawing materials she uses for composites. The producer asked specifically about the "reference catalog" that Steinberg uses, Steinberg's Facial Identification Catalog.
CSI:Miami purchased copies of Steinberg's Facial Identification Catalog and requested she sign a release so copies of the catalog could be used in filming.
On October 17, 2010 the episode, "See No Evil" aired, featuring Steinberg's book and a forensic artist character inspired by Steinberg and her work.