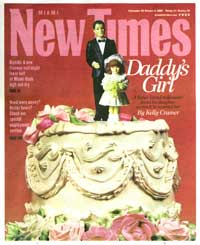 MIAMI NEW TIMES – "Killer Creativity"
In September 2006 Carlos Suarez de Jesus, a writer for the Miami New Times, asked to profile Steinberg and her partner Jorge Molina in an upcoming issue of the newspaper. The article ran in the September 28, 2006 edition of the Miami New Times.
"When local homicide cops find themselves stymied by a case and wishing the dead could tell tales, they seek Samantha Steinberg or Jorge Molina to communicate the secrets concealed in the victims' bones.
The talented pair composes the Forensic Art Unit of (a Major Metropolitan) Police Department's Crime Scene Investigations Bureau, one of the few full-time squads of its kind in the nation. Their job entails assisting investigators with solving crimes by creating facial reconstructions of murder victims from skeletal remains or from postmortem photographs of putrescent or battered bodies. By recomposing the decomposed in their drawings, these artists virtually bring the dead back to life, making them easier to identify.
One might say Steinberg and Molina cover the beat located at the intersection of art and crime, a shadowy patch few creative types venture upon. By doing so they find themselves helping to put killers behind bars and delivering some peace to the grieving. As a result, they are comfortable shelving their egos and acknowledging that their artwork will invariably end up in an evidence locker, far from museum or gallery spotlights."
To read the full article:
http://www.miaminewtimes.com/Issues/2006-09-28/culture/art.html