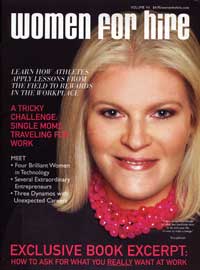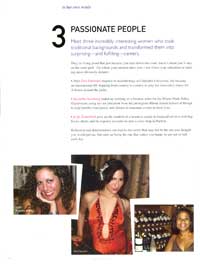 WOMEN FOR HIRE - Women For Hire Magazine Volume VII
In August 2006 Women For Hire asked if they could feature Ms. Steinberg in an upcoming issue of their magazine. The article profiles Steinberg as one of three women who "took traditional backgrounds and transformed them into surprising – fulfilling – careers."
Women For Hire was founded in 1999 as the first and only company devoted to a comprehensive array of recruitment services for women, Women For Hire offers signature career expos, inspiring speeches and seminars, a popular career-focused magazine, customized marketing programs, and an online job board that help leading employers connect with top-notch professional women in all fields.
The company's core business is producing the nation's only high caliber career expos enabling America's top employers to meet one-on-one with a coveted pool of talented women in all disciplines. These events pair recruiters from a mix of Fortune 500 companies, medium -sized businesses, non-profit organizations and government agencies with women in a wide range of disciplines.
Since its inception, Women For Hire has been recognized as a groundbreaking expert at connecting employers with the brightest group of diverse career women, as well as providing those women with exceptional advice on advancement. The company specializes in developing customized programs to meet the diversity recruitment goals of employers in every industry.
For more information visit:
Womenforhire.com
Or read the the original feature.