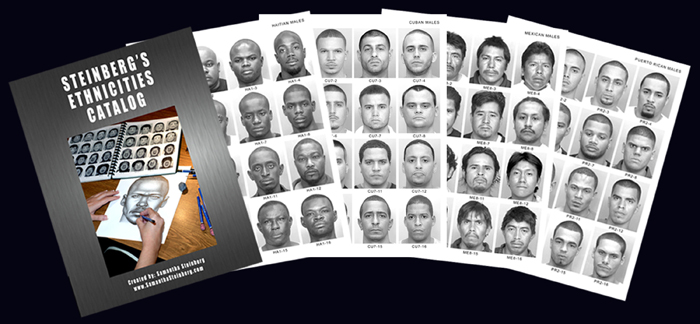 Dear Fellow Forensic Artists & Aspiring Forensic Artists,
It is my sincere hope that my facial identification catalogs continue to make your job & the victim/witness' job easier and that they continue to assist you/your department with getting violent offenders off the streets.
My first book, Steinberg's Facial Identification Catalog has been a tremendous success with over 100 law enforcement agencies in the US and aboard using it for their cases. It is will both pride and gratitude that I can say the fifth edition of Steinberg's Facial Identification Catalog was printed in 2012.
Almost immediately after completing my first book I began work on a second Facial Identification Catalog with the expressed purpose of addressing the need for forensic artists to be able to accurately render subjects from various ethnic groups. According to USA Today, "The US population will soar to 438 million by 2050 and the Hispanic population will triple." Presently the largest Hispanic populations in the United States (based on country of origin) are Mexican, Puerto Rican, Cuban, Salvadoran, Dominican, Guatemalan, Columbian, Ecuadorian and Peruvian. The new book, Steinberg's Ethnicities Catalog, contains 18 chapters depicting thirteen separate ethnic groups. In addition, there are chapters dedicated to heavyset males, older males, young looking males, unique hairstyles, skin irregularities and an accessories catalog. Steinberg's Ethnicities Catalog is 236 pages with over 3300 images.
To keep updated with regard to all Steinberg's Facial Identification catalogs please "like" the Facebook Page for "Steinberg's Facial Identification Catalogs" by clicking this link:
http://www.facebook.com/media/set/?set=a.107136389383011.14668.100002599512822#!/pages/Steinbergs-Facial-Identification-Catalogs/237691659588996?sk=info
To purchase one copy of the Steinberg's Ethnicities Catalog $125.00 plus $15 shipping and handling. Please allow 4 to 6 weeks for shipping
To purchase two copies of the Steinberg's Ethnicities Catalog $250.00 plus $15 shipping and handling. Please allow 4 to 6 weeks for shipping
To purchase one copy of Steinberg's Facial Identification Catalog AND one copy of Steinberg's Ethnicities Catalog $175.00 ($25.00 discount applied when purchasing) plus $15 shipping and handling Please allow 4 to 6 weeks for shipping
Samantha Steinberg has supplied the forensic art community with yet another valuable tool to add to our crime fighting arsenal! Steinberg's Ethnicities Catalog is an 18 chapter, concise compilation of ethnic groups that pinpoints the common physical characteristics of each specific group per chapter.
Even an untrained eye can easily see the many common features which set a group apart by appearance and the differences of that group compared with other chapters! Handy inserts allow the artist to cover-up individual features or use the entire face as reference.
This is the first composite art, reference catalog of its kind available to Law Enforcement, freelance artists and aspiring composite artists as well as any individual or artist interested in the subtleties of the human face. Chapters on hairstyles, skin irregularities and accessories as well as young and old subjects make this catalog a must for any artist who requires professional, top notch, reference material!
Victoria Lywood
Freelance Forensic Artist
Montreal, Canada
The Steinberg's Ethnicities Catalog has been a welcome addition to my repertoire of tools as a forensic artist. Based in Texas, I have a fundamental need to reference a wide variety of ethnicities in my casework. I also have Steinberg's precursor to this catalog (Steinberg's Facial Identification Catalog) and I use the Ethnicities Catalog in tandem with the SFIC in the course of my composite drawing interviews. I don't think an artist can ever have too many references.
I also find the Ethnicities Catalog's design quite useful in that it gives me the option of showing the entire reference face. I find that some witnesses respond well to viewing the facial features in the context of an unobscured face. However, the catalog's novel design allows me the option of returning to the tried-and-trusted format of compartmentalizing the face by obscuring certain features with the aid of acetate overlays.
I recommend this catalog to any forensic artist attempting to go that extra mile in capturing the essence of an ethnicity's physiognomic appearance. The catalog is categorized according to country of origin so it also serves as an anthropological guide to the standard physiognomic characteristics of groups of people residing in certain regions. The differences in the visages of Colombians and Cubans, for example, may be subtle in some cases, but still apparent. That being said, I find Steinberg's Ethnicities Catalog useful on many levels both as a reference and research tool.
Jorge Molina
Forensic Artist
Austin, Texas
I will not do a sketch from witness memory without Steinberg's Facial Identification Catalogs. I appreciate the massive amount of work Samantha Steinberg put into this irreplaceable tool for creating faces from witness memory. In Steinberg's Ethnicities Catalog you have the ethnicities and mixtures that seem to populate most of our cities. The photos are clear and in addition you get a huge myriad of hairstyles, an accessories catalog, scars, skin irregularities and teeth! Everything you need to reach into your witness' visual memory.
Steinberg's Ethnicities Catalog has categories that give unparalleled help when your witness can tell the country of origin for the suspect they are describing! How many times do the witnesses say "...he had a Salvadorian (or Guatemalan, Nicaraguan, etc.) accent? With the "Ethnicities" book, you can go to those countries' pages and get a more accurate group of facial structures.
Every practicing forensic artist knows there is no great sketching-from-witness memory drawing without visual aids. The visual aid is the foundation of your communication with the witness and your drawing from their memory. Steinberg's books provide a firm foundation and the best chance you have to help your detectives catch the bad guy! I cannot imagine any forensic artist doing a sketch without Steinberg's Catalogs.
Lois Gibson
Forensic Artist
Houston Texas Police Department
Steinberg's Ethnicities Catalog is, hands down, the most useful and well thought out forensic art facial identification catalog I have ever used. For years I struggled with the subtle differences between various Central and South American cultures and finally I found the answers in this wonderful publication. A Peruvian woman I know checked it and was genuinely impressed. Long after I retire, Steinberg's Ethnicities Catalog will find a home in my living room because it is just that interesting as a standalone book.
Congratulations Samantha, on a job well done. Bravo!
Detective Larry Boody (retired)
Bridgewater Police Department
New Jersey