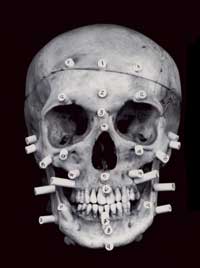 A
facial reconstruction is undertaken when all other attempts at identifying the human remains have met with negative results. Prior to beginning the drawing process, the artist must be provided with certain information. The Crime Scene Report, the Medical Examiner's report, along with the Forensic Anthropologist's report are necessary items needed to complete an approximation of the likeness of the victim. The Crime Scene Report may provide clues to lifestyle and physical appearances such as hair color and style. The Medical Examiner's Report will determine sex, approximate height, and other physical characteristics. The Forensic Anthropologist's Report will narrow both the range of age and height, confirm gender, and provide important clues as to racial origin. The Forensic Anthropologist also determines racially specific characteristics and appearances, including those individuals who have multi-racial heredity.
Composite approximations can be done as a two-dimensional drawing, a three-dimensional clay sculpture, or a computer- generated composite. Unlike composite drawings, where a victim relies on facial feature shapes, the emphasis when completing a facial approximation is the placement of the facial features as they relate to the victim's skull.
As the last forensic attempt to identify the remains, a great deal of care is taken to do the best job possible. It is law enforcement's responsibility to do everything possible to bring a killer to justice and bring closure to a grieving family. Like all our human remains cases, the greatest care is taken during the drawing process so we can speak for someone who can no longer speak for themselves.